Your Guide to Contact Lenses in Abilene
At Amplified Vision, we know how important it is to take care of your vision and that's why we offer contact lenses in Abilene, TX.
Dr. Grant can conduct your contact lens exam, get you fitted, and you'll be on your way and looking great!
Here's what everyone should know about contact lenses.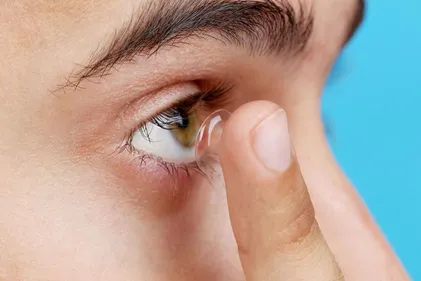 What Happens During a Contact Lens Exam?
When You come in for your first contact lens exam, you'll go through a quick and standardized process.
It all starts with your standard vision test. This helps Dr. Grant not only figure out your prescription but helps determine if there are any special requirements your contact lenses are going to need.
Then we measure the surface of your eye in order to get you fitted for contacts. No two eyes are quite the same which means that your contacts are going to be specially made just for you. This not only covers your prescription, but it also ensures that your contacts fit great without being irritating.
Tips for Wearing Contacts
These tips will help you make sure that your experience with contact lenses is a good one. These will help you to avoid any irritation as well as give you the inside track and have maximum comfort while wearing your contact lens.
Make sure to properly store your contact lenses every time you take them out
Never wear your contact lenses for longer than your specific prescription allows
Call to schedule a visit with Dr. Grant right away if you start to experience any discomfort or changes to your vision
Always wash your hands before handling your contact lenses
What Are Contacts Made from?
Contact lenses have come a long way over the last few years. This includes the materials that they're made from.
Modern contacts are made from a silicone hydrogel that allows water to naturally breathe through their surface which helps keep your eyes hydrated. They also hold their shape which increases their comfort and makes the prescription last longer.
Get Your Contacts Today
Dr. Grant in Abilene, TX can help you schedule your first contact lens exam or get you fitted for your latest pair of contact lenses. At Amplified Vision, we know the importance of good eye care. Reach out to us today to schedule your next appointment. Call us at (325) 698-2010.